Buying your own home is a dream, yet the process can be overwhelming. But not with us! As one of the leading home loan brokers in Melbourne, we are widely known for providing personalized services to our clients whilst finding the most appropriate lenders offering home loans at competitive interest rates.
With years of experience and an extensive understanding of the market trends, we take pride in ourselves while providing efficient services to all our clients. We value your time, and hence, lay major emphasis on getting the job done right in the first place.
It is rightly said that finding the right home loan expert can make your life easier than you think.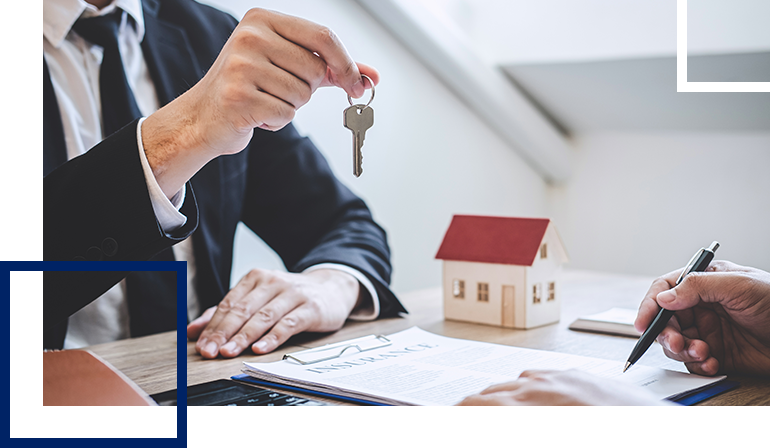 Let's delve a little deeper into the features of the home loan services we provide:
In this type of home loan, your loan is divided into two parts, one is changeable and the other one is fixed. If you want to avail of the flexibility of a changeable loan and fully fixed one, you may want to go for a split home loan service.
Pros:
Your regular repayments will vary less if interest rates increase, making it easier to budget.
If interest rates fall, your regular repayments on the variable portion will fall too.
You can generally repay the variable part of the loan quicker if you wish.
Cons:
If interest rates rise, your regular repayments on the variable portion will rise too.
Your additional repayments of the fixed-rate portion will be limited.
There may be significant break costs that you must pay if you exit the fixed portion of the loan early.
2. Variable Interest Rate Loan
There are two changeable interest rates in loan persist – the 'basic' one & the 'standard' one. If you want a lower rate with lesser flexibility in loans, you should choose the basic one. Whereas, if you are looking for repayment flexibility with a higher rate of interest, 'standard' is the ideal one for you.
Pros:
If interest rates fall, the size of your minimum repayments will too.
Standard variable loans generally allow you to make extra repayments. Even small extra payments can cut the length and cost of your mortgage.
Basic variable loans often don't come with a redraw facility, removing the temptation to spend money you've already paid off your loan.
Cons:
If interest rates rise, the size of your repayments will too.
Increased loan repayments due to rate rises could impact your household budget, so make sure you take potential interest rate hikes into account when working out how much money to borrow.
You need to be disciplined around the redraw facility on a standard variable loan. If you dip into it too often, it will take much longer and cost more to pay off your loan.
If you have a basic variable loan, you may not be able to pay it off quicker or get access to money you have already repaid if you ever need it.
3. Fixed Interest Rate Loan
The loan under this term is fixed at a certain rate for one to five years. It guarantees your repayments won't be affected by the changes in interest rates. However, as a part of the mutual agreement with lenders, this fixed rate can be altered at the end of the given time period. Also, it can be converted into a changeable rate provided by the wish of the customer.
Pros:
Your regular repayments are unaffected by increases in interest rates.
You can manage your household budget better during the fixed period, knowing exactly how much is needed to repay your home loan
Cons:
If interest rates go down, you don't benefit from the decrease. Your regular repayments stay the same.
You can end up paying more than someone with a variable loan if rates remain higher under your agreed fixed rate for a prolonged period.
There is very limited opportunity for additional repayments during the fixed-rate period.
There may be significant break costs that you must pay if you exit the loan before the end of the fixed-rate period.
Generally, the interest is given as the repayment of this principal amount. Usually, it occurs for a period of up to 5 years. As it doesn't involve repaying off your principal, the amount of repayment is lower. At the end of the scheduled time period, you will start paying off both the principal and interest.
Pros:
Lower regular repayments during the interest-only period.
If it is not a fixed-rate loan, there may be flexibility to pay off, and possibly redraw, the principal at your convenience during the interest-only period.
Cons:
The overall cost of the loan is likely to be significantly higher.
At the end of the interest-only period, you have the same level of debt as when you started.
If you're not able to extend your interest-only period your repayments will increase at the end of the interest-only period.
You could face a sudden increase in regular repayments at the end of the interest-only period.
5. Low Documentation Loan
This type of home loan is probably the best choice for the entrepreneurs or someone who is just about to set up his own business as it needs less amount of documentation to get approved. Though the higher rate of deposit might be mandatory.
Pros:
Lower requirement for evidence of income.
Cons:
You will probably pay higher interest than with other home loan types or may need a larger deposit, or both.
Mostly those homebuyers who have bought their first home might be interested in considering this option. It is though equally popular among common people. The discounted rate for the first six or twelve months can be obtained through this type of loan. Afterward, it rolls back to the normal variable rate.
Pros:
Lower regular repayments for an initial 'honeymoon' period.
Cons:
Loans may have restrictions, such as no redraw facilities, for the entire length of the loan.
When the honeymoon rate period ends a homeowner may be locked into an interest rate that is not as competitive as elsewhere.
Some banks may charge early termination fees if you decide to switch to a new lender.
Pros:
You can use your income to help reduce interest charges and pay off your mortgage quicker.
Provides great flexibility for you to access available funds.
Simplifies your banking into one account
Cons:
Without proper monitoring and discipline, you won't pay off the principal and will continue to carry or increase your level of debt.
Line of credit loans usually carries higher interest rates than a standard variable mortgage.
Hence, if you are looking for an efficient home loan broker, you are certainly in the right place. We are significantly the best in class home loan service providers. Please contact us or call our experts at 03 9646 8854 to mitigate all your queries.